[printfriendly]

From the Chair's desk…
It is so very exciting to be a part of the new Board of Global Landcare elected at the AGM last year.
You can check out the new team on our website. We have already met twice and the support and input from all the team members has seen the development of a strategic planning subcommittee, the establishment of the new website and continued partnerships for the development of onground projects through the Global Landcare Program.
Exciting times…Andrea
Strategic Planning Survey
In the lead-up to a virtual event, we have prepared a short survey and would appreciate if you can take 5 minutes to complete it. We want to hear more about your views and aspirations for Global Landcare as well as more information on how you would like to be involved. We will keep the survey open until the end of February 2021.
Community Grants Program 2020 2021
All donations to the Global Landcare Program are tax deductible and all the fund Board members are volunteers, 100% of your donations goes to fund projects and to support training.
– and we know where our funds are going – 21 Countries, 81 projects, AUD $68,760 so far!
Thanks to a generous donation from Beyond Subsistence, Global Landcare has spent $20,500 to fund 12 community garden projects. Five projects in Uganda and seven in Zimbabwe.
You can read about these projects on our website at: https://globallandcare.org/community-gardens-program/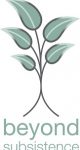 Our wish list includes:
Development of on line training resources to support everyone when face to face isn't available
Supporting landcare groups undertake vital work – the demand has been greater than funds available this past round. We have some great projects we would love to support https://globallandcare.org/potential-projects-that-need-your-help
Supporting overseas Landcare members to join us at the National Landcare Conference in March 2021;
Supporting the development of the Landcare program in the Pacific.
To donate, just go to our website – https://globallandcare.org/donate/
Global Landcare only gives funds to groups visited by its volunteer members and assessed personally, so you can be sure your donation will be spent where it is needed.
Say Gidday (Good-day) to Global Landcare Initiatives!
Australians try to say hello to friends but what they usually say is 'gidday'!
At Global Landcare, we would like to say hello to new friends but we don't always know how to contact each other. If you have been working on Landcare, in whatever way, and could tell us just a very little bit about your activities, we could share them and others might then connect up with you. Working collaboratively is the hall-mark of Landcare and it starts with getting to know you!
Landcare takes so many forms, takes place in so many contexts, and engages so many people, we don't always know how it affects a particular community. If you and your community have been working on a new activity, reviving an old practice, or just learning about better land caring, please let us know. We will publish stories in our newsletter.
Please send just a couple of paragraphs and perhaps a picture to introduce yourself. See the story below from our friends in Cambodia. Email: secretary@globallandcare.org
The Global EverGreening Alliance and you
Global Landcare is a member of the Global EverGreening Alliance that unites non-government environmental and international development organisations to restore degraded lands worldwide.
Evergreening has a large video library where you can see and hear what people are doing around the planet to improve its health https://www.evergreening.org/resources/video-library/.
Have you heard of Farmer Managed Natural Regeneration (FMNR)?
It is a simple, scalable, sustainable land management approach that empowers farmers to stop and reverse land degradation through regrowing trees on farmlands, on grazing lands, and in degraded forests – without requiring any external inputs or expensive equipment. It is used to combat poverty and hunger amongst poor subsistence farmers by increasing food and timber production and resilience to climate extremes.
It's brilliant and really simple!! Learn about it here: https://www.evergreening.org/evergreening/fmnr/.
See the introductory video at https://youtu.be/p-terQL6RO0
Needs assessment for Ecosystem Restoration
The UN Decade on Ecosystem Restoration has a global online survey to identify what and whose capacities need to be enhanced to achieve the goals of the Decade. This survey was jointly developed by a coalition of 38 organizations under FAO's leadership. The survey will provide a baseline in terms of existing system-wide capacities; help identify strengths, gaps, needs and barriers to achieving restoration at scale and guide the UN Decade's system-wide capacity development efforts, to the benefit of all involved.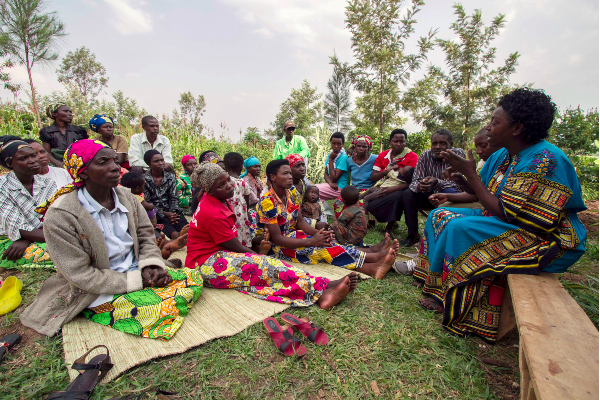 Online Resources and their Accessibility
Are you aware of how many good resources are available online for free (or a fee or subscription), that help with Landcare? Finding what you want it not always easy and often the difficulty is simply in the fact that you call something by one name and another person writes using a different word.
But not everyone has access to the Internet all the time or even when they want it, so at Global Landcare, we probably need to think of making some resources available in a printed form, and some available as downloads that can be used offline.
It is perhaps worth pointing out that publishing digital content, even if it is to be printed, requires care to make the content accessible to anyone who wants it, regardless of disabilities. There are world wide standards and a very heavily endorsed UN Convention on the Rights of People with Disabilities that encourage inclusion.
We are starting our 'news from newsletters' segment with news from Victorian Landcarers. Note the possibilities for easy access to their content. The webinars offered in the place of the 2020 Landcare Conference, for example, stream online for about an hour each. How could they be made available so everyone can access them, perhaps using a phone to view them, or perhaps for someone with vision disability, or someone with hearing disability? Can the texts be made available for translation?
Landcare Australia Webinar series
The webinars offered in the place of the 2020 Landcare Conference are available at https://landcareaustralia.org.au/national-landcare-conference-webinar/?sourcehome
News from Newsletters
– news from the world via newsletters
Global Landcare aims to be global in what we offer and what we learn. To this end, we are trying to find useful items in current newsletters from around the world to share them – just summarising them with a pointer to them so you can read more or even choose to subscribe yourself. We hope that Landcare and collaborating associations and even individuals will take the time to send us newsletters and other items to include in our newsletter in the future. Most of the news following in this edition is from Australian newsletters.
PEPY in Cambodia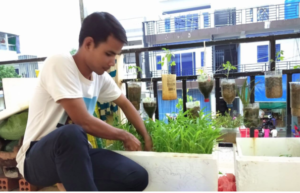 Australian Landcare International made a small donation to PEPY in Cambodia in 2020. PEPY has worked for many years with local people in villages near Siem Reap. The range of work done in the past by PEPY has been amazing. After the long hard 2020, it seemed unlikely the story of the year could match those of the past but – guess what – it was amazing again!
At Global Landcare we are concerned to work with people who know their needs and can make the best use of resources. PEPY's story is available regularly in their newsletter which is emailed to subscribers but this short extract from the latest gives us a good idea of what is possible in places like Cambodia. Congrats to them and happy reading.
Victorian Landcare Newsletter
We are starting with Victorian Landcare's latest news. This is available at
https://www.landcarevic.org.au/landcare-magazine/summer-2021/ It is available by post, email or both. For previous issues of the magazine, https://www.landcarevic.org.au/resources/magazine-library/
To access issue #80 of the Landcare magazine in low-resolution PDF format, please visit
https://www.landcarevic.org.au/assets/Uploads/VLCM-80-lo-res.pdf).


To subscribe, or update your contact details, please submit the online form available here using Subscriber ID 114744.
But what is the news from Victoria?
From weeds to woodlands in 5 years
Protecting remnant vegetation and restoring denuded areas has been a key aim of the whole farm plan at Geoff and Joan Anson's Barwon Ridge property in the Barrabool Hills, west of Geelong. As well as four hectares of vines, Barwon Ridge has a small flock of merino sheep and an orchard of heritage fruit trees. Since 2000 remnant vegetation has been fenced off, shelter belts established, and bog plants and crayfish in a local creek protected from livestock. Read more.
Growing and transplanting murnong – a cultural and commercial crop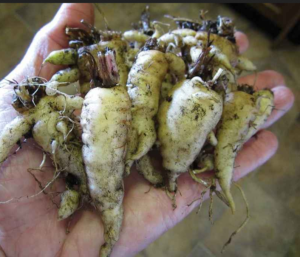 Murnong or yam daisy (Microseris walteri), is a highly nutritious, summer-dormant, tuberous perennial herb. The white tubers are nutritious and sweet tasting. They can be eaten raw or baked, mixed with other vegetables or turned into a paste for desserts. The leaves can also be used in salads.
Under Australian Aboriginal management, murnong was widespread across grasslands and grassy woodlands of southern Australia, providing a staple food crop. Annette and Rebecca Peisley have researched this plant and the results are encouraging for the production of this culturally significant species as a commercial crop. The methods from this study can be reproduced using containers in home vegetable gardens, or scaled up for production on farms. Read more.
Remember the Wild
This website has an important cautionary article (Rethinking Burning for Biodiversity, Jan 6, 2020) by Brady Hamilton who graduated from Victoria University in 2018. He refers to the role now being forged for Indigenous practices in mainstream Australia to remind us that not all discoveries should be generalised. Particular circumstances present unique problems in many fields including land care. See https://www.rememberthewild.org.au/rethinking-burning-for-biodiversity/.
There are many other articles and you can subscribe to future news.
Bush Tracks Magazine – Summer 2021
Bush Heritage is an independent not-for-profit that buys and manages land, and also partners with Aboriginal people, to conserve Australia's magnificent landscapes and irreplaceable native species forever. Celebrating their 30th Anniversary, the Bush Heritage Australia's special extended edition of Bush Tracks includes an interactive timeline of our history as well as stories from partners, scientists and staff in the field. The website has many resources that not only document the history of the organisation but help by offering examples of ways in which science, Indigenous knowledge, modern practices and the environment can flourish in the right circumstances. Download or read online
Forest and Landscape Restoration Mechanism
http://www.fao.org/in-action/forest-landscape-restoration-mechanism/resources/newsletter/en/

The FLRM Newsletter contains articles and reports from FLRM's activities supporting countries in the planning and implementation of forest and landscape restoration.
Current articles include:
Grazing and range land management in Tannourine, North Lebanon (http://www.fao.org/in-action/forest-landscape-restoration-mechanism/resources/detail/en/c/1315003/)
UN Decade on Ecosystem Restoration: The role of the Task Force on Best Practices (http://www.fao.org/in-action/forest-landscape-restoration-mechanism/resources/detail/en/c/1315004/)
Restoration activities in the municipalities of Kollo, Illéla and Soucoucoutane in the Niger (http://www.fao.org/in-action/forest-landscape-restoration-mechanism/resources/detail/en/c/1315009/)
Sustainable agroforestry value chains to support forest and landscape restoration in Sao Tome and Principe (http://www.fao.org/in-action/forest-landscape-restoration-mechanism/resources/detail/en/c/1315030/)
Understanding 'Landcare'
Landcare, all over the world now, is what it is but what is that?
Many writers have tried to capture the essence of Landcare. The following captures just some of the ideas found in the literature of the past but they are powerful ideas and should stimulate some discussion about Landcare. There are many more in the article but not room for more here, unfortunately.
See below for description of some of the important aspects of LandCare that will help all groups.