International Conference of Landcare Studies Global Resilience through Local Self-reliance - the Landcare Model
 
NAGOYA, JAPAN
5-8 NOVEMBER 2017.
The Abstracts are now available can be downloaded in pdf format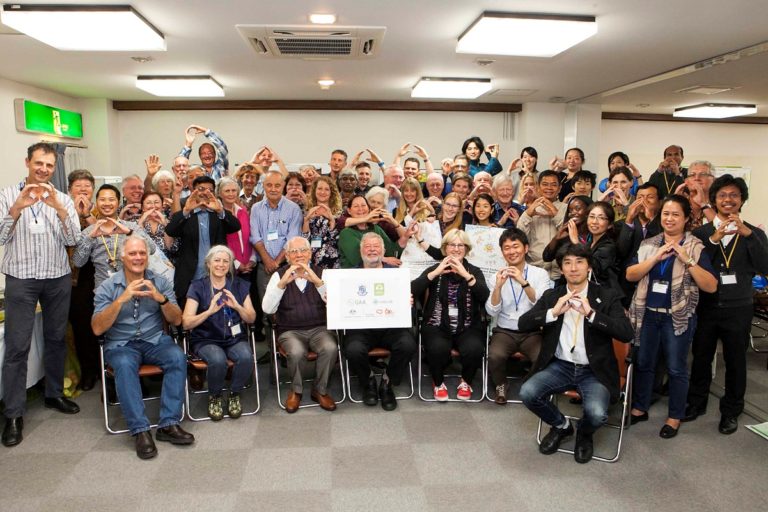 This was the first world gathering of landcare academics and practitioners to discuss the theories, practice and pragmatics of the 'landcare field' and the role of landcare, localism, self-reliance, sustainability, rural and regional resilience and post-emergency and disaster recovery, for application globally.
The conference was organised by Nanzan University Institute for Social Ethics, and co-hosted by Australian Landcare International.
Hosted in Nagoya, Japan it was timed to coincide with World Tsunami Awareness Day following a tour of affected areas in 2016 where community activities post disaster were identified as being very 'landcare' in their approach.
Speakers included: Dr Joseph Runzo-Inada, Dr Tomomi Maekawa, Dr Kazuki Kagohashi (Japan); Prof Yvonne Everett (USA); Joseph Tanui (Kenya); Dr Nick Edgar (NZ); Dr Andrés Arnalds (Iceland); Prof Andrew Campbell, Dr Lisa Robins, Prof Stewart Lockie, Rob Youl OAM, Andrea Mason, Dr Ross Colliver, Megan Rowlatt, (Australia) and other key thinkers. The lineup brought together a forum with an incredible depth of expertise on Landcare. They were able to share knowledge, to ensure the continued development of Landcare as a global model, and able to assist with the growing challenges that are required by communities across the globe.
There were pre- and post-conference tours to sites, with discussions and guidance from community leaders working on a range of post-disaster and more 'regular' Landcare activities.
Contact:
Secretariat of the International Conference of Landcare Studies 2017, info.landcare2017@gmail.com,  ,    http://resiliencestudies.com/landcare-conference2017/
….with support from